PLACEMENTS WITH US MEAN PRODUCTS FOR YOU!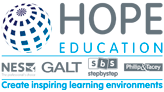 As you use Coba Education you accumulate real money that you can spend at any time on items for your school. Bonuses are gained as levels of loyalty are achieved. Please visit Hope Education to peruse the catalogue of items.
Having decided what you want to buy, please visit your on line schools area to submit your request and your consultant will deliver it to your school. A weekly update of your account is available on line as well as the function to see when your products have been ordered. 
Please note that the monthly limit for orders is £500 and loyalty earned expires after two years.
We thank you for choosing Coba Education as your specialist staffing partner and hope you enjoy the products available to you through Hope Education.